Business Development
04/07/2016

NAPA Exemplary Professional of March Esther Hauser
By Esther Hauser
My career started in retail management where I navigated sales, merchandising, logistics, human resources among many other responsibilities of running what felt like a mini-universe. I quickly learned that while I have a knack for operations, my heart is in helping people learn and grow.
I was fortunate to make the move from big-box retail to AAA in 2013. When joining AAA, I was touched by the number of people who shared with me their deep trust and admiration for the organization. I knew I wanted to be a part of that. As the Director of Learning and Development at AAA, I get to build on the established, trusted culture while also developing a learning environment. I oversee all training which includes insurance agents, process/systems, and automotive training along with leadership development initiatives. What I love most about my role is I am able to impact lives each day.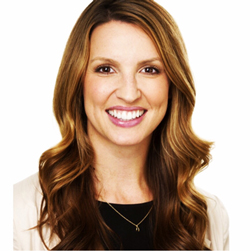 I work with twelve talented facilitators who touch nearly each new Team Member we bring on board. Specifically for our insurance Team Members, those who have participated in our onboarding training have commented that they feel they understood their role, knew the systems they would be using, and felt encouraged to begin supporting our Members and…selling. The work we do empowers, engages, removes barriers, and ultimately sets our Team Members up for a successful, rewarding career as they begin their journey at AAA.
Working for the past two years in Learning and Development, I realized I found my niche! While I love understanding business process and strategy, I truly love getting to support our Teams from a different angle – being the partner to help guide growth. As a young leader, I rely on my strength of relating well to build strong relationships quickly. By getting to know the partners I work with and support, I build an awareness of where Team Members need development and growth. It's an incredible feeling to find the one thing that allows your passion and career to intersect – I want to help ignite that same feeling in the Team Members I support.
I am excited and eager for what lies ahead in my career, and the incredible people I will meet, be impacted by, and get to impact along the way.