Insurance Agent Interests
12/15/2020

Aging Insurance Agents and the Younger Generation
By Joseph Peters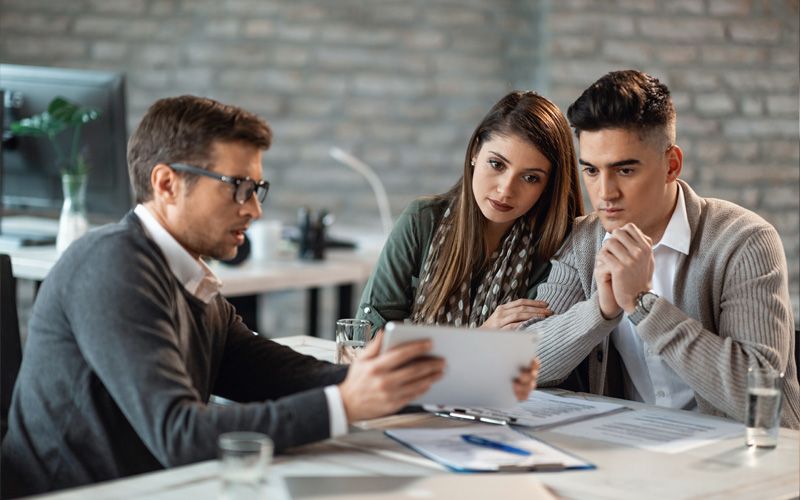 The "graying" of insurance distribution is an existential crisis for the industry. If you're approaching retirement age, you can be part of the solution by developing a succession plan.
Philosophers often claim that character is destiny. In the insurance industry, experts say demographics are equally important, especially the aging of the agent force that distributes its products.
Clearly, the graying of America is transforming insurance as we know it. According to the U.S. Census Bureau's 2017 National Projections, all Baby Boomers will cross the 65-year-old threshold by 2030. This means the senior population will become so large that 20 percent of all U.S. residents will be of retirement age. "The aging of baby boomers means that within just a couple decades, older people are projected to outnumber children for the first time in U.S. history," said Jonathan Vespa, a demographer with the U.S. Census Bureau.
This age shift is sending shock waves throughout the industry, particularly in terms of distribution. For life insurance, a LIMRA-McKinsey Financial Advisor survey revealed that 20 to 40 percent of agents are within a decade of aging out of their practice through retirement. More than half lack a succession plan to assure business continuity for their colleagues and clients. According to Future One's 2018 Agency Universe Study, the average age of P&C agency principals is 54, and 15% are age 66 or older. Four in ten agency leaders in the Future One study said they expected to have an ownership transition in the next five years.
How agency leaders plan for and execute their departures will determine the industry's growth curve for decades to come. If you own an agency or work as a solo agent or broker, have you thought about how you'll age out of the industry? Do you have a succession plan in place to guide your transition? If you're a millennial agent, have you thought about buying into or owning an existing insurance agency some day? This article will provide food for thought for sellers and buyers as they begin to plan their futures.
With demographic waves breaking over the industry, the stakes couldn't be higher. IT consultant Accenture estimates that a $30 trillion asset wave is about to crash on the shore as older clients and experienced advisors die or retire. From 2031 to 2045, it states that 10 percent of all U.S. wealth will change hands every five years. Since 51 percent of heirs have never spoken with their parents' agents and advisors, about half will transfer family assets to another financial professional at some point. This will create a lot of churn among insurers, agents and brokers.
But white water isn't the only likely outcome. If agency leaders develop—and execute—succession plans before they retire, they will be able to retain client business and assure service continuity under new management. The key to effectively making this transition is to bring new blood into the agency world...millennial producers with a desire for agency ownership.
While some people may think millennials dislike the insurance industry, in reality people between the ages of 24 and 39 have a positive view about the industry. A recent data point shows that 82 percent of millennials would recommend working in the industry to a friend or family member. Good work-life balance, growth opportunities and excellent compensation were reasons cited for their view. What's more, millennials appreciate the industry's mission of protecting client lives and livelihoods and the flexible work schedules insurance agents enjoy.
Succession Plans Are Essential
Despite the fact that there's a large pool of prospective millennial agents poised to enter the industry and possibly take the reins one day doesn't mean there's an obvious solution to owner aging. What can be done requires having a robust succession plan. What is that? It's a written document that details the owner's desired end state, both in terms of who will assume ownership and/or management of the business after he or she leaves and how new management will maintain service continuity. It also details the actions and steps for achieving that end point. Key sections of the plan include:
Value of the agency, including existing debt.
Identification of successor candidates, with plans for assessing and augmenting their skills through mentoring.
Employee impact—i.e., who will remain on board under new management and who will leave, with financial arrangements for each scenario
Client communications, detailing how you'll let clients know about your departure and introduce and support your successor.
Your desired goals, including financial and career outcomes (if you wish to keep working either at the agency or elsewhere).
Purchase transition and financial arrangements.
Depending on the nature of your business and personal objectives, you may need to include other elements in your plan. But here's the key point: give yourself enough time to think carefully about every aspect of the transition, in most cases at least five years. Then build a detailed plan that considers major contingencies. According to Jason Konopik, area president of Partners Advantage, a Gallagher company, here's what a successful succession plan looks like.
It should:
Transfer the full value of your business so you are adequately compensated for the decades of work you invested in the company.
Make sure talented people take over your firm, people who are committed to carrying your legacy into the future.
Assure that loyal clients continue to receive the service they deserve.
Give you full say in determining how the transition plays out rather than having it determined by external factors or luck.
Konopik stresses the importance of attacking succession in a logical fashion to make the process as efficient as possible. Here's a sequence to consider:
Develop a continuity plan. This is not the same thing as a succession plan. The former assures that your business continues to operate after the death of an owner or a key person or after a major natural disaster hits your office. It makes sure your firm continues servicing clients despite suffering a major loss in term of human life or property/system damage. Consider your continuity plan the foundation of your succession plan. You shouldn't do the latter without first doing the former.
Seek advice from outside industry experts. Succession planning can be a highly emotional process. Because of the intense feelings involved, agency owners often procrastinate starting the process or after they begin they get bogged down in conflict or doubt. Hiring someone who understands insurance agencies and the psychology of family-business succession to quarterback the process will help you stay on track.
Pick an exit date. Selecting your exit date will sharpen your commitment to leaving and focus your thoughts on the tasks that remain. As we mentioned earlier, succession planning usually takes five years or longer to complete, not a few weeks or months. Give yourself sufficient time to work through the many complex issues and emotions involved.
Identify potential successors. Based on your desired end state, write down the characteristics you'd like to see in a new owner. The person can be a family member currently working in the business (or not), a key employee, a business partner or someone you'd like to hire, but haven't met yet. Make sure you know whom you're looking for before you begin grooming a known person or looking for a new employee.
Secure an updated business valuation. Reviewing past financial performance will help you predict future growth trends and your firm's financial value. If growth is insufficient, identify steps to get it back on track and build them into your plan. Because agency profitability may help to fund your successor's purchase of your business, solving for that first will help the new owner to meet the terms of the purchase agreement.
Set financial terms. How exactly will the purchase happen?  Will you sell your shares to the new owner? Will it be done through a buy-sell agreement? Will you let a key employee buy a partial stake initially and then purchase the rest over time? Or maybe you'll allow a family member to buy you out and pay you back in installments. Whatever your preference, be sure to seek legal and financial advice to anticipate stumbling blocks and negative tax consequences.
Determine the length of the transition. Broadly speaking, succession planning typically takes fives years or longer. However, the intense part of the process takes around six to 12 months. Mentoring will be a large part of the active phase, as will troubleshooting all other plan elements to make sure the transition doesn't flounder once you flip the switch.
Identifying a Successor is Complicated
Identifying potential successors is the trickiest part of succession planning. This is where you'll encounter the most emotions, especially if you're hoping to pass your business along to one or more children. Selling out to a child is an excellent option. But it's not a foregone conclusion especially if he or she has a satisfying career elsewhere or lacks the skills to take over. But if your child has an interest in—and the skills for —succeeding you, this might be your best option. You, in effect, will serve as the bank and your child (or children) will make payments over time. The payments will essentially function as your retirement annuity. When you die, your children will inherit the business based on your estate plan.
Another option is to have existing agency principals buy all or part of your interest. It's an easy transition for employees and customers to accept. However, people who've been working with each other for a long time may have developed conflicts. Elevating them to ownership when the prior owner has left the scene might open the door to infighting.
A third option is to have an external entity buy out your interests. The main advantage here is that an outside buyer may be in a position to pay more for the agency than internal principals. Although you may wish to sell out to current staff for sentimental reasons, doing so can mean a financial loss on your part.
Whichever path you take, seek expert advice from your attorney and accountant to make sure the deal is structured properly and minimizes negative tax consequences.
Now, what if you're a millennial agent looking to grow your business by acquiring someone else's book of business? Buying a retiring agent's clients or company might be just what your bottom line ordered. Sure, it can cost a lot of money, but it might involve less overall risk and time than growing your business organically. Here are some tips to consider:
Know what you're looking for. Think about the optimal distance between your current office and the clients you'd like to acquire. Are they outside a comfortable driving distance? Would you relocate to get closer to them? Could you or do you want to serve them virtually, which makes location irrelevant?
Make sure acquired clients fit your business. What is the nature of your current book of business and how will your prospective acquired clients mesh? Avoid glaring disconnects such as acquiring business executives for a kitchen-table practice. Acquiring the wrong kind of clients might not only be expensive, but also disruptive to the current operation of your business.
Work your network. The best way to find an agent or agency to buy is through personal connections. Whom do you know who might be ready to retire? Which agencies do you admire and wished you owned? Spread the word among friends and colleagues that you're looking to expand via acquisition and see what surfaces.
Do your due diligence. As with all things financial, you'll want to do your due diligence on your acquisition target(s). Make sure there are no problems lurking beneath the service and request a current business valuation. Once you've collected relevant data about the target(s), run them by your advisors to see whether the acquisition makes financial sense.
Find funding. Term loans from a financial institution are one possibility. Plus, insurance marketing organizations (IMOs) or insurer home offices might have available financing. Finally, the seller might be open to letting you make installment payments with interest. Whatever the financing you select, be sure to run the deal past your advisors before you pull the trigger.
Whether you're an agent in their 50's or 60's looking to retire, or a 30-something agent looking to purchase an agency or a book of business, the key is to know what you want, what success looks like, whom you want to do business with and how. There are countless variables and challenges embedded in each of these matters, so be aware that closing a financially and personally rewarding deal may likely take a long time. But if you have the patience and tools to make it happen, the agency sale/purchase will likely have the positive financial and lifestyle outcome you desire.
Compare your current E&O insurance with the coverage available from NAPA for insurance agents costs as low as $27.42 per month.
Contact:
Joseph Peters, Account Executive
Phone: (941) 757-0030
Joe is currently in a leadership role for business development for NAPA. After an extensive sales career, Joe switched industries to join NAPA in 2011. After obtaining a 2-20 General Lines P&C license, he lead a new sales venture that quickly grew a Professional Liability book of business to over $1,000,000 and continues to grow today. With a focus on risk management, he has provided peace of mind and security to his clients. As a student-athlete at Hilbert College, Joe was able to transition his leadership skills to business.