Insurance Agent Interests
12/16/2020

An E and O Crash Course for Agents and Advisors
By Joseph Peters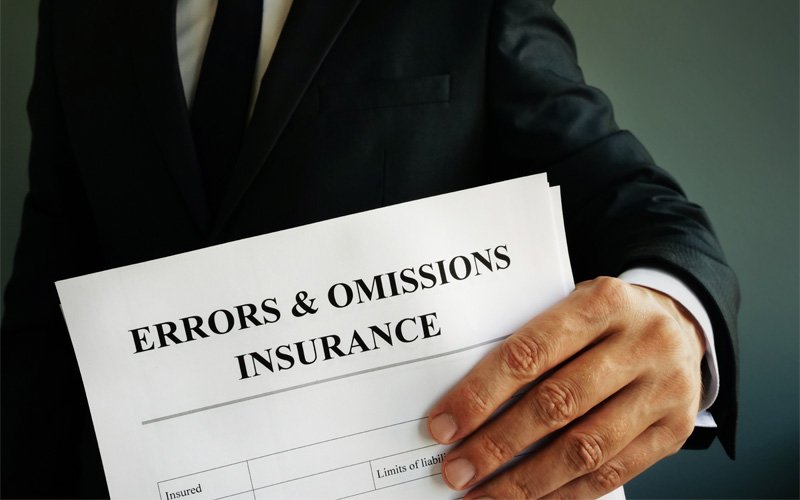 Are you a little fuzzy about E&O insurance for insurance agents and financial/investment advisors? No worries...read our crash course on what it is, how it works, and why you need it
Imagine this hypothetical scenario: You're a life insurance agent with several years' experience. You approach a prospect who agrees to speak with you about his insurance needs. After a brief conversation, you discover the person—an IT specialist at a large corporation—has a spouse and several young children at home. But he only has a small group life plan at work. Because both you and the prospect are pressed for time, you promise to work up a proposal to mitigate the person's large life insurance need.
After you present it, the prospect has a few standard questions and objections, but you're able to resolve them and you close a sale for a $500,000 term life policy. Happy ending? Maybe not.
A year later, you receive a call from your client's spouse. Her husband suffered a serious injury while working on their home and is now totally disabled. His doctors expect him to recover enough to return to work, but not without nine months of intensive rehabilitation.
During this period, he is not be able to work. However, his company does provide 40 percent of his weekly pay for 12 weeks. The loss of 60 percent of his income for 12 weeks and 100 percent of income for another six months is going to be an extreme hardship. "How come you didn't sell my husband better disability insurance?" she asked.
As a relatively new agent, you didn't have a good answer. When you learn a couple months later the wife was planning to sue you for negligence, you're not surprised. But you're worried about it because you lack errors and omissions (E&O) insurance. What if you lose your case? Would you be able to pay for a large settlement or judgment? Would you go bankrupt if you couldn't? Frankly, you wished you had bought E&O insurance when you first entered the industry. Now it was too late.
Although this is a hypothetical case, it's a common concern and dealing with an aggrieved client is an all-too-real possibility for insurance agents and financial and investment advisors of all stripes. Selling various types of insurance and/or providing financial or investment advice is inherently risky. The products and services are highly technical. Clients can have misplaced expectations. External events such as recessions or stock market crashes can stress out clients who've lost money, making you a target for asset recovery via litigation. Natural disasters can destroy commercial assets and leave insureds unhappy with their claim settlements. In short, an insurance agent or investment or financial advisor's risk of getting sued and suffering significant financial loss from a negative court decision is significant and growing. Have you neutralized this exposure through effective risk management?
Fortunately, E&O insurance for insurance and financial professionals can protect you against the financial consequences of client disputes. It's affordable, offers comprehensive protection, and is available today from the National Association of Professional Agents (NAPA). And the process of buying E&O coverage is simple; most agents can apply and pay for coverage online in a few short minutes.
What is E&O insurance?
So what exactly is E&O insurance? It's an agreement between you and an insurance company in which the insurer agrees to cover your professional liability claim costs in return for you paying an insurance premium. It's insurance that specifically covers your professional liability as an agent or advisor. This means if you get into a client dispute and get sued, the insurer will cover your expenses, thereby preserving your business and personal assets.
How does E&O insurance work? Put simply, your E&O insurance policy will cover you in case you make a mistake or forget to do something important that financially harms a client. Based on the policy's insuring clause, which defines terms such as "insured," "loss, "claim, "wrongful act" and "professional services," the insurer will:
Provide you with a vetted defense attorney at no expense to you
Assign a company E&O claims adjuster to investigate your case and manage the process of resolving your claim
Pay for your attorney's retainer fee and administrative expenses related to your case
Pay for expert witness to strengthen your legal defense
Cover arbitration, mediation or other alternative dispute resolution services
Pay for court administrative expenses
When calculating the cost of the above claim expenses, the total can easily reach five or six figures. Without insurance, you would have to pay for them out of pocket. With insurance, your insurer will pay for them once you meet the deductible (your cost sharing amount) specified in the policy. However, your policy won't pay for these expenses under certain conditions. These are spelled out in the exclusions section of your insurance policy. Common exclusions are:
Losses resulting from dishonest, fraudulent, criminal or malicious acts or those that willfully violate any statute or law
Disputes relating to the insolvency of an insurance or investment provider
Cases involving litigation settled before your policy's inception date or that is pending at that date
Claims that benefit a family member of the insured
Requests for payment of incurred regulatory fines
Cases involving actual or alleged injuries, sicknesses, disease, emotional distress, mental anguish or the death of any person
Disputes flowing from professional activities that are outside the list of core covered duties
Litigation against you that's part of a broader class-action lawsuit
Against what types of losses does an E&O insurance policy protect you? The possibilities are endless, but here are some of the major ones:
For life and health agents, possible claims include:
Failing to provide insurance (as in our case study)
Not explaining product features and benefits effectively, resulting in misplaced expectations
Making an administrative error that costs a client money
Failing to make a requested policy change correctly or on time
Not correctly calculating a policy premium
For P&C insurance agents, common allegations include:
Not carefully explaining policy provisions
Failing to adequately identify risk exposures
Failing to recommend needed insurance coverage
Communicating inaccurate or incomplete client information to an insurer
Failing to provide timely notice of a claim
Financial planners and investment advisors have their own unique exposures, often relating to the suitability of investments provided, effectiveness of asset diversification and the churning of assets for personal gain.
Whatever your insurance or investment license and related risks, the possibility of getting sued is ever present. Transferring the financial impact of these risks to an insurer has huge practical benefits for anyone working in the insurance or investments industry.
Why agents and advisors need E&O insurance
Given the E&O insurance features we've discussed so far, why do you need this coverage? Your mileage may vary, of course, but most agents and advisors find it to be an essential purchase. Here's why:
It greatly reduces financial uncertainty in your practice or agency. It does this by replacing a large, unpredictable risk (the chance of getting sued) with a smaller, known expense (a periodic E&O insurance premium). Most insurance agents and financial or investment advisors find that paying for E&O insurance is preferable than having a large unknown risk looming over them.
It provides easy and quick access to a vetted defense attorney. If you get sued, you'll need to select an attorney fast. But finding a good one can be time-consuming and challenging. When you have E&O insurance, your insurer has a contractual duty to defend you. It must provide you with a capable lawyer who is required to immediately launch your defense.
It reduces your stress level. Unless you've been sued, you have no idea how upsetting the whole experience can be even if you know you've had your client's best interests in mind. For starters, it raises the possibility you'll be found liable for a large client settlement or judgment. If you don't have liquid assets to cover this amount, you may have to sell off business and/or personal assets or even declare bankruptcy. What's more, getting sued raises questions about your professional competence, which often become public. It's hard not to let such allegations get you down. But when you have E&O insurance, your policy will pay for covered claim expenses, while your attorney will work hard to dismiss unfounded or frivolous charges and to defend your reputation. Having support for both the financial and emotional stress of being sued is hugely beneficial.
It preserves your financial assets. Preserving your business and personal assets is likely the most important E&O benefit of all. The prospect of losing everything and/or of having to go deeply into debt to satisfy a court judgment is a troubling one for most agents and advisors. Fortunately, having an E&O insurance policy will prevent these outcomes, preserving your financial security and giving you and your family peace of mind.
It builds client trust. Clients want to know their insurance and financial advisors are true professionals. This involves maintaining high professional standards and also taking responsibility for your mistakes. Buying E&O insurance is an excellent way to take responsibility for your actions because it provides a financial mechanism for compensating clients who suffer a loss at your hands.
Two special cases: brand new and highly experienced professionals
With benefits such as these, it's easy to see why E&O insurance should be part of every financial professional's risk-management program. But brand-new agents or advisors and those with a lot of experience and success behind them have an acute need for this coverage.
New professionals need E&O insurance because they usually have fewer assets and less disposable income than more experienced agents do. Since they're working hard to adjust to a new industry with intense pressure to make sales, they may be more likely to make a mistake that ends up in litigation. If they lose their E&O case, they will be poorly equipped to pay for a settlement or judgment...unless they have E&O insurance behind them.
New agents or advisors also find it hard to shop for E&O insurance through a traditional insurance broker and insurer. This usually involves filling out a tedious paper application, evaluating proposals and talking to multiple E&O insurance agents. This is a time-intensive process new agents or advisors can ill afford. E&O insurance purchased through the 360 Coverage Pros online platform is a contemporary way to buy insurance right from your computer or phone, saving potentially dozens of hours of shopping drudgery.
Experienced and successful agents and advisors need E&O because they tend to work with higher-income clients and to provide more complex insurance or investment products or financial advice. Clients with extensive assets stand to lose more money if something goes wrong with their product or service. A customer who loses money on your watch will always be an E&O lawsuit in the making. Complex products with a lot of moving parts will be more likely to underperform in certain scenarios or simply be harder for clients to understand. When your customers don't truly comprehend what they bought, they will be more likely to blame you, their agent or advisor, for performance shortfalls. You know what can happen next.
Not only do experienced professionals work with more complicated products, they tend to deal with a broader range of client needs. This results in them needing to have more product types in their portfolios, which makes for a steeper learning curve. As a result, experienced financial professionals may end up with knowledge gaps that lead them to make mistakes that spark litigation.
Whether you're a new agent or advisor or a highly experienced one, the need for E&O protection is nearly universal. In today's volatile insurance and investment industries, it may well be an act of professional suicide to do business without robust E&O insurance coverage.
Visit our website to learn about your E&O insurance coverage options and costs from NAPA.
Contact:
Joseph Peters, Account Executive
Phone: (941) 757-0030
Joe is currently in a leadership role for business development for NAPA. After an extensive sales career, Joe switched industries to join NAPA in 2011. After obtaining a 2-20 General Lines P&C license, he lead a new sales venture that quickly grew a Professional Liability book of business to over $1,000,000 and continues to grow today. With a focus on risk management, he has provided peace of mind and security to his clients. As a student-athlete at Hilbert College, Joe was able to transition his leadership skills to business.