Insurance Agent Interests
02/10/2021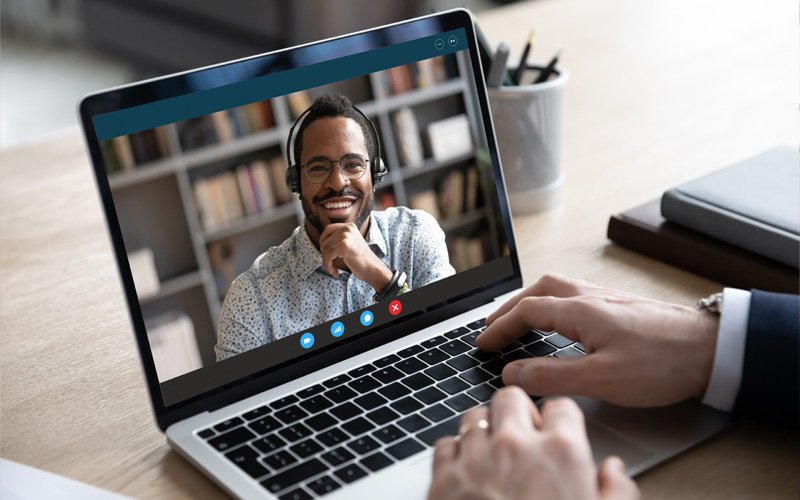 Have you embraced virtual selling or resisted it? Are you experiencing good results from it or are you unhappy with your experience? Read on for guidance on how to use remote selling to your advantage.
The insurance industry has entered a brave new world of virtual selling. Thanks to new technologies and the advent of a global pandemic, more agents are prospecting for business and closing sales without meeting clients face to face. This selling approach exploded in 2020, but in reality, virtual or remote sales have been growing for many years. What's different now is that it's become an essential rather than an optional sales approach.
Embracing the Virtual World
In the spring of 2020 pandemic lockdowns struck the insurance industry. Early on, agents and insurers struggled to migrate their businesses to offsite locations and to online communication platforms. Within weeks, most insurers and agents made the transition to doing business virtually. However, even though the industry shifted gears, some agents struggled to adjust, particularly to video conferencing. With time and practice, however, most learned how to maintain their productivity while selling in a new way.
Agents also learned that virtual sales have financial advantages. Because you don't have to commute to an office every day, you have more hours available for work. This translates into more sales appointments, more closed sales and higher income. With greater revenue comes cost savings from not having to drive as much or to pay for client lunches and dinners. Finally, virtual selling puts you totally in charge of your schedule. Together with not commuting, working virtually reduces personal stress and enhances career satisfaction.
With benefits like these, one wonders whether virtual selling will become the new normal after the pandemic ends. At that point, will you switch from getting your feet wet with virtual sales to making it your default work style?
Mastering the Technology of Virtual Selling
Prior to the pandemic, thousands of agents had already transitioned to telephone sales from in-person meetings. This allowed them to see more prospects and to present simple insurance products with greater efficiency. Since then, video chat has proven to have its advantages over telephone because it allows you to interpret people's facial impressions. This helps you to determine the optimal point at which to attempt a trial close and how best to respond to objections. From the customer's perspective, video chat makes it easier to determine if they like and trust you enough to buy insurance from you.
There are many video chat platforms available, including GoToMeeting and WebEx. But Zoom seems to have won the most users in insurance sales due to its stability and ease of use. By this point, you've probably mastered the challenge of inviting prospects to a Zoom meeting, such as sharing your screen and unmuting yourself.
The goal now is to optimize your Zoom meetings by:
Curating what's on the wall behind you to make a strong professional impression
Upgrading to a better USB microphone so your voice is more pleasing to listen to
Installing a forward-facing light on top of your monitor to make sure your face doesn't get lost in shadow
Although video chat is a core virtual selling technology, here are some others that are equally essential.
Electronic applications (e-Apps)
Electronic funds transfer (EFT)
Policy e-Delivery
Customer Relationship Management (CRM) system
Discussing these in detail is beyond the scope of this article. Suffice it to say, it's important to rely on your insurance (or financial) marketing organizations and insurance carriers for technical support with these applications.
Building a Virtual Marketing Platform
Successful virtual sales don't just happen. They require the development of a comprehensive digital marketing platform. The main objective of this platform is to generate leads.
According to Jeff Root, managing partner of DigitalBGA, the starting point is to pick a niche, which is defined as a specific insurance need and the buyers who have that need. "Maybe you know a lot about getting (life) coverage for diabetics," Root writes in his book The Digital Life Insurance Agent. "Build a website that is just designed around getting life insurance for people with diabetes. Don't address anything else. Really laser target people in your chosen demographic."
Root adds that the reason for targeting precisely is that prospects with a specific need for life insurance will more easily find you when they use a precise search query such as "life insurance for diabetics" than merely "life insurance." Plus, having a niche market opens up more marketing avenues than if you positioned yourself as an insurance generalist. For example, it will likely uncover trade associations, publications, websites, podcasts and other marketing outlets with whom you can collaborate to publish your content and to generate leads.
Which niche to target? Root suggests selecting one you know something about, either through personal experience or research, and one that is either stable or growing. Some niches will be evergreen, and others will be emerging (example: medical marijuana users). Either way, the key is to zero in on a niche that will generate enough prospects and for whom it's not too difficult to secure insurance.
Once you have a niche identified, next identify a unique selling proposition (USP), also known as a value proposition. Root says this is the promise you make to prospects about what they will receive in terms of insurance coverage and customer service from your firm. For instance, to stick with the diabetes example, your USP or value proposition might be that you provide life or disability insurance solutions for diabetics who don't like medical exams."
Finally, remember that a USP should be unique or at least relatively rare in the marketplace. If a Google search returns hundreds or thousands of agents using the exact same USP, then you'll need to come up with something less common.
Once you have a niche and a USP, switch your attention to building an online marketing machine. Here are 10 tasks you'll need to accomplish before you'll be able to switch your machine on:
Create a content-rich website that answers your niche clients' most pressing questions. This will involve developing a piece of cornerstone content—a long article, PDF guide or case study—that provides these answers. After you've created your foundation content, write or commission a dozen or more related articles that approach the topic from other angles. Give yourself the goal of creating the best online resource for members of your niche audience. If you succeed, you'll begin to appear at the top of Google's search engine results page for your desired search term. Other related sites will begin linking to your site, as well, which will create referral traffic to your site, moving you even higher on the search results page.
Research the top 100 websites that publish information for your target prospects. Integrate them into your ongoing marketing plan. This might involve approaching them to write a guest blog post, advertise on their site, retweet something you've published or feature you in their email newsletter.
Once your marketing machine is complete, you'll be ready to generate your own organic leads. Until then, you may need to buy leads from other sources. Buying them from a leads firm is one option. However, in a YouTube video, Root says these are often for state regulated insurance plans that prospects believe are free. This can lead to confusion when you first speak with them on the phone. Another alternative is to generate leads on Facebook. Root says producing 100 leads at $7 each would produce a total cost of $700. But if you wrote three insurance applications for a total premium of $2,000, you'd be looking at a 300% ROI. Face-to-face insurance agents might generate a better return with traditional direct-mail leads, but the per-lead cost and time cost of meeting with prospects could eat into their ROI.
Figure out the ultimate length of your lead-generation runway. Root says the biggest mistake virtual agents make is not buying enough leads or not giving their organic lead generation enough time to begin producing results. He calls this a "compounding" process in which all of your prior lead acquisition and prospect outreach begins to generate results. However, if you don't stack up your activities properly, your runway will become too short and you might lose momentum and stall before your results take off.
Work a combination of organic leads and paid leads. "In the short term, you want to do paid leads," Root suggests. "But in the long term, you want organic leads. These are search engine generated leads. They take time, content, backlinks and a good, fast website," says Root. "All of those things will get you to rank on search engines if you're doing the right things. But it takes six months to get momentum." Organic leads are the best leads because they represent actual people searching online for the insurance they need to buy, Root adds. But pay-per-click leads from sources such as Facebook, Google Ad Words and YouTube will get you started, as will leads purchased from insurance lead vendors.
Understand the mechanics of various lead-generation platforms. Root says organic leads are better than pay-per-click leads. YouTube PPC is almost as good as organic, even though they cost more than Facebook and Google ads.
Get licensed in all 50 states. According to Root, this will allow you to negotiate discounts from lead companies who charge higher for leads coming from a specific state.
Apply search engine optimization (SEO) techniques to your website content by either teaching yourself SEO or hiring a consultant. "Search engine generated life insurance leads are the holy grail of online marketing," Root says. "They are the highest quality online leads you can get and they come directly to you."
Revisit your social media efforts. Post links to your website content on the major social media platforms. Your social-media postings must be consistent and relevant to your target audience. Engaging with people in social media is important, but always keep your conversations professional and compliant.
Install quoting and binding capabilities on your website. The quicker your website can convert quote requests into quotes in hand, the higher your conversion statistics will be.
Obviously, these are just some of the high points of digital marketing for insurance agents. But where the rubber meets the road is in how you handle the sales process with the leads your marketing machine creates.
Mastering Virtual Sales Skills
One of the beauties of virtual selling is that the skills involved are essentially the same as in person-to-person sales. Rapport building is still important. The ability to pose fact-finding questions and to identify insurance needs are equally pivotal. So are the abilities to counter objections, detect buying signs and ask for the sale. The only difference is that all of this must happen in a compressed time period and without in-person contact.
However, selling virtually poses unique challenges. One is connecting with prospects over a screen or phone instead of face to face. To overcome the screen barrier, be highly engaging and interactive with your virtual prospects. Talk to them directly, pose frequent open-ended questions and maintain an informal conversational tone. Plus, engage them in your presentation; don't just recite bullets off your sales track.
Also, don't forget to share information about yourself with your prospects. You might talk about where you grew up, your education, your family and favorite hobbies in order to build connections with them.
Equally important is preparing in advance for your online or telephonic sales sessions. Have your sales presentation up on screen and ready for sharing. If you use a separate fact-finding questionnaire, have it available, as well. The point is, strive to conduct these meetings with confident professionalism. As you've likely heard before, you'll never have another chance to make a first impression with prospects, especially those you meet initially online. Make the most of your time with them.
Finally, remember to turn on your video camera for video chats. Oddly enough, a lot of agents do virtual sales meetings with their cameras shut off. Perhaps they forgot to shower or shave or don't want to change out of their pajamas. Regardless of the reason, doing an online meeting without video is problematic since it negates the main advantage of engaging prospects on video chat: establishing a positive and trusting relationship. When someone only has your voice to go by, it becomes much harder for them to feel good about trusting you with their insurance purchase.
Trust, at the end of the day, is what will make or break you as a virtual insurance agent. True, your marketing and sales tools might be different when you sell online. But the people you'll be talking to are still regular people. Which means they'll still want answers to two questions before they buy from you virtually:
Do you know what you're talking about?
Can they trust you?
Provide the right answers online and you'll be well on your way to success in the brave new world of virtual selling. Good luck!
Concerned about how much you're paying for errors-and-omissions insurance? Check out the coverage available at NAPA Benefits, with premiums starting at $27.42 per month.