Insurance Agent Interests
03/01/2021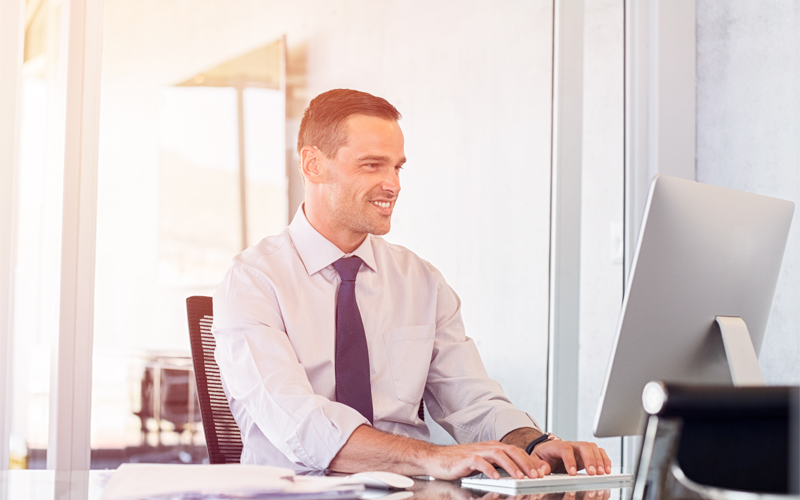 Has your customer service become more virtual in the wake of the global pandemic? If so, here are some tips to take it to the next level.
The COVID-19 pandemic has fundamentally transformed insurance sales. It has turned a field that traditionally relied on face-to-face interactions into one that now often happens over the phone or on a computer screen. The virus has also reshaped post-sale service, forcing agents and brokers to use new methods to maintain strong client relationships. Read on to learn more about the challenges—and opportunities—of providing customer service virtually during a global pandemic and beyond.
As with insurance sales, the evolution of customer service from face-to-face interactions to virtual ones began many years ago. Today, when clients need service on their insurance policies, they often call or email their insurer directly or adjust their policy on a self-service insurer website. But even with these options, two matters still need an agent's personal touch: ongoing client communications and the annual client review.
Client Communications in a Virtual World
One of the major ways agents build and maintain relationships is through ongoing client communications. Before the pandemic, meeting clients in the office was common. After the pandemic, office sessions declined and other communications picked up the slack. According to a survey from Broadridge Financial Solutions, 57 percent of clients said they were communicating differently via phone calls (58%), emails (46%) and video chat (36%). Interestingly, the survey reported that millennial clients were more likely to use video chat with their agents/advisors (59%) than were non-millennials (36%).
Without face-to-face meetings, both long and short, the challenge for insurance agents is to maintain client engagement in other ways. However, this may be difficult to achieve. For example, a 2020 YCharts survey found that 64 percent of clients said their advisors contacted them either infrequently (36%) or very infrequently (28%). Even clients with a $500,000 portfolio said they heard from their advisor either infrequently or very infrequently (a total of 54%). Although the survey targeted primarily investment advisors and their clients, not insurance agents, one can assume the contact frequency challenge is similar for insurance professionals. In fact, since insurance purchases are longer-term in nature and less sensitive to financial-market volatility than investment portfolios are, agents are probably even less likely to maintain regular contact than investment professionals.
With the business world going virtual, one can't stress enough the importance of regular agent/client communications. But there's a caveat. Communications must be highly personalized. For example, the YCharts study found that 75% of clients said they wanted their advisor to send useful content—news articles, statistics, charts and graphs—as long as it related specifically to their personal situations and insurance/financial holdings. What's more, clients younger than age 50 were much more likely to want personalized content than were clients over age 60 (83% vs. 63%).
But here's the rub. Clients viewed the frequency and personalization of their advisor's communication to be so important that 85% would consider those factors when deciding to keep working with that person. Thus, if you're wondering what you need to do now when it comes to client communications, focus on these two things:
Engage more frequently
Provide more personalized content
Given these two challenges, it's also important to begin thinking more systematically about client communications and to make it a formal, scheduled activity. According to Sean Brown, CEO and President of YCharts, planning future client touch points will determine whether your virtual communications will succeed or not.
What are the elements of a sound communications strategy
Here are six:
Valued-added touch points
Value-capture touch points
Scheduled communications
Ad hoc communications
Broadcast messages
Narrowcast messages
Brown defines each element as follows:
A value-added touch point is an agent/advisor interaction whose goal is to provide value to the client. Examples include sending an e-mail newsletter, publishing a blog or sending an infographic via text.
A value-capture touch point is an encounter designed to serve the agent or advisor's interests as well as the client's. Examples include asking for a referral, cross-selling a new product or trying to convert a prospect into a client.
Scheduled communications are those planned in advance and that recur periodically.
Ad hoc communications are opportunistic, happening on the fly in response to something occurring in the external environment. Communications about health insurance coverage for COVID-19 treatment is an example of an adhoc interaction.
Broadcast messages are those sent to all clients, and narrowcast messages are those sent to one or several clients.
The above elements are the building blocks for Brown's "Advisor/Client Communication Framework." It consists of a 2 x 2 matrix that allows you to categorize and schedule client communications over a planning period. For example, in the top left box are broadcast/scheduled communications (regular touch points to all clients) and in the top right box are broadcast/ad-hoc communications (as-needed touch points to all clients).
Narrowcast/scheduled communications (regular touch points to one or a few clients) are in the bottom left box, while narrowcast/ad hoc communications go in the bottom right box (as-needed communications to just a few clients).
Why use a 2 x 2 matrix to manage client communications? To make sure your activities are spread across all four boxes. Also, you want to balance your broadcasting efforts with sufficient narrowcasting. Narrowcasting—i.e., speaking to clients within certain segments (high net worth, owning certain types of products or in a certain life stage, etc.—will give your communications more of a personalized feel. If you are primarily broadcasting, your messages will largely be generic, which may annoy clients looking for more personalized content.
To make up for the loss of in-office or coffee shop meetings, use more micro-communications such as social-media posts and texts. And since the times require more client communications, replacing labor-intensive print content with more efficient digital publications is important. According to Matt Swain, managing director and practice lead for Broadridge Communications Consulting, 33% of consumers now choose paperless communications from a new provider vs. 26% prior to the pandemic. This is creating a "window of opportunity" for agents and advisors, he says.
Annual Client Reviews in a Virtual World
In the good old pre-pandemic days, the annual review was the linchpin of post-sale customer service. This meeting, typically held in the agent or advisor's office, was designed to review the status of a client's insurance or investment holdings, to uncover new needs, to cross-sell additional products to the person and to ask for referrals to friends and family. From an interpersonal perspective, the meeting played a pivotal role in further strengthening the agent/advisor/client relationship, thereby enhancing customer satisfaction and minimizing client defections.
Today, financial professionals have struggled with what to do with client-review sessions, since in-person gatherings may no longer possible. Some have postponed or even cancelled them entirely. If you're in the latter camp, we recommend you begin conducting them virtually. Here's why.
Meeting virtually is highly convenient for clients. They don't have to dress up to meet in an office setting, drive anywhere or cool their heels in an advisor's reception area. Getting together virtually strips away inconvenience and allows clients to engage productively with their agent or advisor.
What's more, virtual meetings lower their barrier to entry. People who might be reluctant or anxious about meeting their advisor face to face might feel more comfortable meeting virtually. This will rebound to their benefit since now they can discuss unresolved financial issues with you or bring up new concerns.
For you, not having to prepare for formal in-office meetings will save you a lot of time. And if you planned to meet the client at their office or some other location, a virtual session will save you travel time and wear and tear on your car.  Meeting virtually also allows you to invite allied financial professionals such as estate-planning attorneys or accountants to attend. Or you can invite far-flung family members who wouldn't normally be able to travel a long way to attend.
Other advantages of a virtual client review include:
They enhance your productivity. Since virtual sessions minimize up-front and back-end chitchat, you end up using your time more productively. In fact, the time you save by meeting virtually can be used with other clients.
Virtual client reviews are easily rescheduled. If something happens and either you or your client must reschedule, it's easier to reschedule a virtual session than an office meeting.
Visuals can play a larger role. When you meet in-person, graphs and charts presented either in a report or on a screen are often viewed as props that distract from the conversation. However, in the context of a video chat, visuals tend to play a more natural and integral part.
Virtual meetings can be more focused, structured and efficient. If you deliver your content capably, you will come across as being more professional than if you "wing" an in-person meeting.
Finally, virtual client reviews are highly flexible. They can happen at just about any time and from any place in the world. Agents or clients will have few excuses for not being able to participate in a virtual client review.
Although meeting face to face to discuss progress on a client's account is worthwhile, it's even more beneficial remotely. To capture these benefits, however, watch out for several barriers to such meetings.
Not being able to see each other's faces and bodies can make communicating in this format uncomfortable. Plus, the more people you have on a videoconference, the worse it can get. Also troublesome is the inability to interpret verbal cues or subtle headshakes and nods. Making matters worse, some session participants mute themselves, making themselves "invisible."
Clients also have the tendency to zone out during videoconferences, either by getting distracted by objects in their environment or by attempting to multi-task while participating in the meeting.
To overcome these hurdles, here are some tips for making your virtual client review sessions more effective:
Turn off your own face during a videoconference to help yourself focus on your client and other participants (if any).
Invest in high-quality video conferencing equipment, including a more advanced camera, a professional microphone and dedicated lighting. The goal is to capture your image and words so that your client can easily see you and understand what you're saying.
Avoid the pre-packaged virtual backgrounds that come with your videoconferencing application. They blur the edges of your face and can be highly distracting to your meeting participant(s). A better alternative is to place the camera in front of an "authority" wall in your home office, which can include family pictures, college diplomas, bookcases and the like.
Stay focused on your agenda. Don't multi-task or go off on wild tangents.
Maintain excellent personal-appearance standards. It goes without saying you should wear clean, pressed business-casual attire, comb your hair and refrain from eating during the session.
Conducting highly professional client reviews and becoming more thoughtful about how you communicate regularly with clients is the new normal of post-pandemic customer service. Have you begun participating in this brave new world? If so, are you ready to move to the next level?
Concerned about how much you're paying for errors-and-omissions insurance? Check out the coverage available at NAPA Benefits, with premiums starting at $27.42 per month.