Insurance Agent Interests
07/13/2017

When and How to Become a Business Owner Part Two
By Harry J. Lew
Working for yourself is a dream of millions of Americans. But as we discussed in part 1 of this series, it can also limit your success. That's because when you try to do everything as a professional agent, you end up paying yourself too much for your administrative work. Plus, it's easy to get overwhelmed with office chores. This can lead to burnout and ultimately to mistakes that elevate your E&O insurance risk.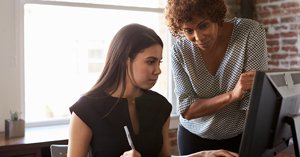 Traditionally, agents and advisors have avoided this by hiring an assistant to help answer phones, set up mailings, and co-ordinate sales meetings, etc. But even hiring a part-time employee can be a significant investment. Enter virtual assistants.
To illustrate their appeal, let's compare the costs of hiring a full-time sales/administrative assistant, housed in your office and paid full benefits, with an assistant who works virtually and receives no employee benefits.
First, let's assume you pay your employee assistant $20.00 an hour (which will vary based on your geographic area). To replace that person with a virtual assistant might cost $35 an hour. The reason the VA payment is higher is because virtual assistants are self-employed business owners, typically with more experience, which justifies a higher hourly rate. Plus, they also are responsible for providing their own benefits, which further raises their rate.
Now, let's increase the employee assistant's hourly rate by 35 percent to account for benefits cost and another 50 percent for that person's share of office space, equipment, office supplies, worker's compensation insurance, and federal benefits such as Medicare and Social Security. This brings your employee's effective hourly pay to $37. Assuming the person works a standard full-time schedule of 2,080 hours per year, your cost for this person will be $76,960. Ouch!
To complete the analysis, let's adjust the virtual assistant's hourly rate to reflect employee benefits and overhead. That's easy! Both amounts are 0, since the person isn't an employee. This makes the VA's effective pay rate $35.
What about hours worked per year? Would you need to pay this person for 2,080 hours annually? No! Because working virtually will make the person more efficient. Without birthday parties and idle chatter, it's fair to assume a highly skilled and motivated virtual assistant could accomplish the same amount of work in 10 hours a week that a full-timer would need 40 hours to complete (an admittedly aggressive assumption!) . Now, let's assume the virtual assistant works 50 weeks a year, with two weeks off for vacation (VA-funded, of course). The virtual assistant grand total is $17,500 per year.
Bottom line: hiring a full-time administrative/sales assistant under this scenario would cost $76,960 vs. $17,500 on a virtual assistant basis, with no expected reduction in quality or productivity. Even assuming your VA works twice as many hours a week, you'd still save over $40,000 a year.
Do you like these numbers? Then it's time to start recruiting for your own VA. How to find a good one? There's an easier way and a harder way.
The easier approach is to use a virtual-assistant agency. Here, you simply describe whom you're looking for, and the company provides candidates. Many firms have often worked with financial professionals before, so they're familiar with your desired skills. Downside? Using an agency VA will cost you more, since the firm builds its compensation into the VA's hourly rate. But the convenience of finding a VA with the right background out of the gate may be worth it.
Before you approach a virtual assistant agency, define exactly what you want your assistant to do, how many hours a week you're willing to pay for, and how much you want to pay.
The harder approach is to find your own virtual assistant from among the thousands of independent VAs doing business today. This will lower your cost, but you'll have to work harder to find them. Here's a suggested process:
Start by tapping your personal and professional offline networks. Ask your contacts if they know or have worked with virtual assistants locally. Then reach out to several candidates and request their resumes, brochures, website addresses, etc.
Perform a brief screening interview via phone or videoconferencing. The latter will give you the ability to check out the professionalism of their work environment.
Then do in-depth interviews with several finalists. Be sure your questions probe relevant job skills and critical incidents ("What would you do if a client said . . .?") Then ask each candidate to perform an actual job task. To allow for accurate comparisons, make sure the assigned task is the same for each candidate.
Whoever brings the strongest combination of prior job history, financial-services experience or affinity, telephone or videoconferencing "manner," and performance on the job task should become you first virtual assistant . . . but not before you check references. Also, consider ordering a comprehensive background check on the person, including credit history, criminal charges or convictions, and history of civil litigation, if any. Background checks are easily available and affordable on the Internet.
Finally, before you pull the trigger on hiring a virtual assistant, consider compliance. Check with your broker-dealer (if you're securities licensed) to see what FINRA rules apply. And if you're insurance or RIA-licensed, do the same with your sales intermediary and/or regulator. Regardless of your license, compliance rules will likely prohibit your VA from engaging in direct sales activities (putting through a securities or insurance transaction, for example). Plus, you will likely want to limit the person's access to your clients' personal financial information, not to mention require him or her to sign a confidentiality agreement.
Still, these are small hurdles compared with the big productivity and efficiency gains virtual assistants often bring. And think of how many more prospects you'll be able to see when you're not drowning in paperwork back at the office.