Investment Advisor Interests
05/09/2019

Fight Back Against Rogue RIAs
By Harry J. Lew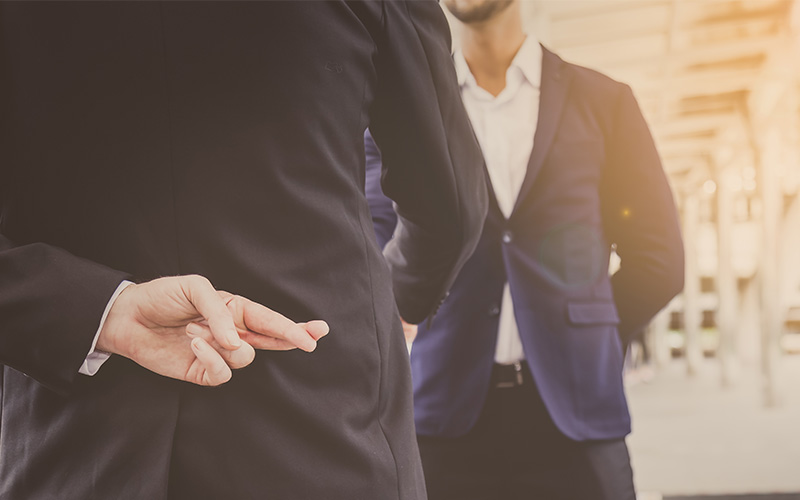 As a registered investment advisor (RIA) or investment advisor representative (IAR), have you grown tired of reading about advisors who put their greed ahead of their clients' best interests?  Of course, you have. Yet sadly, despite the drumbeat of federal and state enforcement, the damaging stories just keep on coming.
Take the case of the two Massachusetts investment advisor reps who "gambled away" $10 million of their clients' money by selling them aggressive energy investments. According to state authorities, an IAR put significant numbers of clients into high-risk energy investments without taking into account their age, account size, or risk tolerance. Approved by the firm's chief compliance officer, the investments lost $10 million in value after energy prices tanked and issuers went bankrupt.
Then there's the case of the Cape Cod, Massachusetts advisor who stole $3 million from clients by making unauthorized withdrawals from their variable annuities and securities brokerage accounts. To execute her fraud, the advisor either forged client signatures on withdrawal requests or tricked clients into making withdrawals to cover fictitious tax obligations, money that ended up in the advisor's personal bank account. After grabbing her clients' hard-earned money, in many instances their entire life's savings, she used it to buy luxury vehicles and to take expensive vacations.
Finally, there was the Massachusetts investment advisor who solicited millions of dollars from 100 investors ostensibly to set up medical marijuana dispensaries. Instead of actually creating those facilities, he took the money and ran, leaving his clients $8 million poorer.
Although all three examples came from one New England state, the same types of stories took place hundreds of times in other states last year, despite aggressive state and federal enforcement. Perhaps the answer is for the industry to promote ethical values as much as it demands regulatory compliance.  And that effort should begin with every RIA and IAR doing business today.
For instance, RIAs already are subject to a heavy regulatory burden. Advisors must give prospects and clients a copy of Form ADV Part 2A (firm brochure) and Form ADV Part 2B (brochure supplement). These documents pull the curtain back on every aspect of an investment advisor firm, including its:
Provided services
Fees
Third-party compensation
Discretionary trading
Broker-dealer affiliations
Types of clients served
Disciplinary actions
RIAs must also give clients a copy of their Code of Ethics. SEC's Rule 204A-1 requires all federally regulated advisors to share their standards of business conduct, along with the personal securities trading of all "supervised persons." RIAs have done a good job of complying with this rule, often publishing their codes prominently on their web sites.
Still, being forced to disclose information about their firms doesn't appear to stem the flood of misconduct afflicting financial consumers these days.  For example, over the last five years, the regulatory agencies that comprise the North American Securities Administrators Association (NASAA) have taken 10,408 enforcement actions against state-regulated investment advisors. Through these measures, they've sent financial rogues to jail for 9,194 years and have assessed $3 billion in restitution and $1.2 billion in fines or penalties. They also pulled or suspended the licenses of some 19,000 RIAs and investment advisor representatives.
Seeing how RIAs get into regulatory hot water should be a cautionary tale. Still, advisors tend to make the same mistakes that trip up their colleagues. Here are some of the major ones:
Recommending a purchase, sale, or exchange of an investment without having a reasonable basis to believe the transaction is suitable for the client.
Exercising a discretionary trade without having the authority to do so.
Engaging in excessive or unreasonable trading in a client's account.
Borrowing money from a client unless the client is a financial institution in the business of loaning funds.
Loaning money to a client unless the advisor is a financial institution in the business of loaning funds.
Misrepresenting to a prospect or client one's qualifications to serve as an investment advisor.
Charging a client an unreasonable advisory fee.
Neglecting to disclose to a client at the beginning of an engagement that one has material conflicts of interest that might impair one's ability to render unbiased advice.
Many of these problems result from sloppy compliance practices. Getting serious about knowing—and adhering to—the rules that govern your business can help to prevent these mistakes in the future. One way to do this is to review the key compliance documents that apply to your business at least once a year. This includes:
Your ADV form
Your client advisory contracts
Your firm's social media policy
Your cybersecurity or data security policy
Your business continuity plan
Your code of ethics
Still, getting better at complying with industry regulations may prevent you from violating the law, but do nothing about making you a more ethical advisor. What will? Looking within your heart to assess the values you hold and to make sure your business practices uphold those values. Have you done this yet? If not, start by asking yourself two questions:
First, what do you stand for ethically as an RIA or IAR? Are you in business to primarily serve yourself and to do whatever's expedient to that end? Or do you see yourself as a true fiduciary, someone who puts his clients' interests above his own?
Second, do your business practices reflect your ethical values? Or do you simply give lip service to those values?
One way to begin answering these questions is to review industry ethics codes to see what concepts underlie an exemplary financial-services business. One useful document is the CFP Board's Code of Ethics and Standards of Conduct. Applicable to financial planners who've earned the CFP® mark (but still of interest to all advisors), it's divided into three sections: a preamble, a code of ethics, and standards of conduct. Let's look further at the second and third sections.
CFP's Code of Ethics lays down a roadmap for appropriate advisor behavior, consisting of six principles:
Act with honesty, integrity, competence, and diligence.
Act in the client's best interests.
Exercise due care.
Avoid or disclose and manage conflicts of interest.
Maintain confidentiality and protect the privacy of client information.
Act in a manner that reflects positively on the financial planning profession and CFP certification.
You could do a graduate-level course on these concepts. But for now, it might be worth reflecting on the times you didn't adhere to them. For each one, go through the following exercise:
Determine what your objective was.
Identify the external influences that lead you to make the decision. (bosses, financial pressures, clients, colleagues, intermediary firms, etc.).
Define the impact of your decision on the key parties involved.
Determine how each decision conflicted with the ethics code.
Identify the long-term results on your clients and business of your action.
The goal of this exercise is to reflect on why you did what you did and what it means for your business. In most cases, you'll find that the short-term benefits of an unethical decision lead to long-term negative consequences for your firm. Once you understand that, it becomes easier to follow a more ethical path.
Along with its ethics code, CFP promulgates standards of conduct. These are specific behaviors or duties that translate its code principles into real-world actions. Duties to clients comprise the core of this section. Here are some of the major ones, along with some suggestions for applying them to your business.
Fiduciary duty: the CFP Board wants its registrants to uphold fiduciary principles when working with clients. This involves fulfilling . . .
A duty of loyalty—placing the interests of the client above one's own interests or those of third parties, avoiding conflicts or if they can't be avoided, disclosing them to the client and effectively managing them
A duty of care—taking care to always act prudently and skillfully to serve the clients goals, while taking the person's risk profile, objectives, financial resources, and personal situation into account.
A duty to follow the client's instructions—always behaving in ways consistent with the client wishes and with the terms of the engagement.
Integrity: along with fiduciary duty, advisors must also act with integrity at all times. This is synonymous with honesty and candor and precludes deceitful dealings with clients. It goes without saying that investment advisors should never engage in attempts to defraud a client or distort or omit a material fact.
Competence: advisors must always act from a place of relevant knowledge and have the skill to effectively apply that expertise. If that isn't possible, then the person must either terminate the engagement and/or hand off the client to another professional who has the necessary competence.
Diligence: this involves responding to reasonable customer inquiries in a timely and thorough fashion.
Conflicts of interest: advisors with a material conflict of interest should disclose them to clients and receive informed consent. Ideally, their business practices should prevent conflicts before they compromise their ability to serve the client's best interests.
Objective judgment: at all times, advisors should exercise sound professional judgment, uncompromised by accepting gifts, gratuities, or other considerations that might compromise their ability to render objective advice.
Professionalism: this means treating all prospects, clients, colleagues, and others with dignity and respect.
Adherence to the law: advisors must not only act ethically, but also in compliance with all relevant laws and regulations governing the profession.
Confidentiality and privacy: advisors must keep confidential any non-public personal information about prospects and current or former clients except for ordinary business purposes or at the request of law enforcement.
Providing information to clients: when providing financial advice or financial planning, the advisor should provide full descriptions of the services and products to be offered, advisor compensation, and potential conflicts of interest.
The CFP standards go on to define duties relating to compensation, recommending/working with other professionals, using technology, and lending money to clients or commingling personal with business assets. It ends with an extensive discussion of how to apply practice standards in the financial planning process and of the duties owed to firms and subordinates and to the CFP Board,
Although the CFP Board's Code of Ethics and Standards of Conduct in theory only apply to holders of the CFP® mark, other professional groups have similar codes governing the behavior of their own designees, including the American College of Financial Services, the Society of Financial Services Professionals, and the CFA Institute. The point is, if you're serious about elevating your commitment to ethical business practices, you can't go wrong studying—and implementing—any of these codes.
However, it's equally instructive to put yourself in the shoes of your prospects and clients and ask yourself how you would like to be treated if the roles were reversed.
For example, to what degree would you like your advisor to do the following when working with you . . .
Put your interests first, even if he stands to make more money by serving his own interests.
Act with integrity at all times, upholding fundamental standards of honesty even when the truth may not be flattering.
Provide objective advice, rather than falling prey to emotions, bias, or conflicting priorities.
Maintain professional competence, investing time and effort in professional development for a rapidly changing world.
Be transparent about her professional background and working methods.
Safeguard your personally identifiable information, regardless of whether it's on paper or in digital files.
Respond diligently to all of your requests, no matter how busy or preoccupied he might be.
If you're not treating your clients this way, the question becomes why not? If more financial professionals went through this analysis, the number of negative media stories would plummet and prospects would gain trust quicker, decreasing friction in the sales process. Not only that, client complaints and lawsuits and advisor E&O insurance claims would decrease markedly. Isn't it time all RIAs and IARs in the industry raised their ethics game?
Paying too much for your RIA errors and omissions insurance? Then it's time to learn about NAPA E&O Insurance for Registered Investment Advisors (RIAs) with coverage starting as low as $72.08 per month.