Investment Advisor Interests
07/09/2018

Social Media is Top Marketing Strategy for Advisors
By Harry J. Lew
Social media technology has revolutionized just about every aspect of financial-advisor marketing, sales, and client communications, becoming a key business tool for the vast majority of financial professionals. That's the key takeaway from the fifth edition of the Putnam Investments Social Advisor Study, released in April 2018.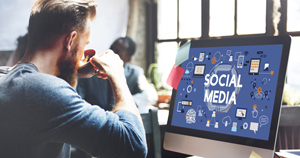 The study, of 1,014 U.S. financial advisors, revealed that the 86 percent of professionals using social media said it brought them new business. This was an increase from 80 percent in 2016. But more fundamentally, they also said social media has deeply changed the way they interact with prospects and clients. For example . . .
Two-thirds (or 67 percent) of advisors now find it easier to share information with clients.
Nearly six in ten (59 percent) communicate with clients more often, but use the phone or in-person meetings less.
More than half (54 percent) say they've benefitted from having better professional relationships with clients. What's more, 47 percent said they had better personal relationships with them.
Half (50 percent) noticed their decision-making is getting easier and faster.
"Advisors today are increasingly using social media as a tool not only to communicate with their clients and prospects, but also to deepen and evolve their ongoing relationships with clients," said Mark McKenna, Head of Global Marketing, Putnam Investments. "These professionals are also finding that leveraging both the business and personal sides of social media enables them to more easily connect with current clients and attract and develop new business."
According to the study, use of social media has become nearly universal among financial advisors. Putnam found that fewer than three percent of advisors said they never used social media for business or personal reasons. The profile of non-users, not surprisingly, skews older and reveals less professional accomplishment than with heavy social-media users. For instance, non-users typically are 60 years of old, have 24 years of experience in the industry, and have only $69 million in assets under management (AUM). Heaver business and personal users, however, average $89 million in AUM, while those who use social media only for personal reasons have $85 million in AUM. This suggests that using social media even for just personal reasons produces tangible business benefits, Putnam said.
Putman found that even though social media usage is nearly universal, financial advisors are scaling back their time on the platforms, while becoming more focused and effective in their use of them. For example, the vast majority of advisors who use social media for work (86 percent) have signed new clients as a result. This is an increase from 80 percent in 2016 and 49 percent in 2013. And 60 percent of advisors say using social media has enhanced their prospecting efficiency compared with traditional networking, an increase over the 56 percent reported in 2016. In addition, more than eight in ten advisors (83 percent) say they're converting prospects into clients in much less time now that they're making full use of social media.
Not surprisingly, the survey found that as social media platforms have evolved, so has financial advisor involvement. Back in the early days, LinkedIn was the platform of choice for most advisors. Although it remains popular today, Putnam says advisors are increasingly using Facebook (56 percent), Twitter (46 percent), Yelp (42 percent), YouTube (39 percent), and Instagram (34 percent). Although LinkedIn remains the dominant business platform in terms of participation, advisors use Facebook more frequently—an average of 22 times per month vs. 16 for LinkedIn.
"Over the past five years, we have found that LinkedIn's share of net business use has flattened among advisors, while the use of every other network for business has grown," McKenna noted. "LinkedIn remains a critical tool, as its user demographics and rich, indexed data are unique compared with the other leading social media platforms. Linked provides a concentrated network of college educated and relatively affluent users, making it the best place to qualify leads, obtain referrals, and begin the process of converting prospects. However, advisors are conducting day-to-day social media business on other platforms."
Putnam's fifth social media advisor study was based on data from 1,014 advisors across the United States who have advised retail clients for more than two years. They work across a range of intermediary channels, including independent and regional broker-dealers, nationwide planning firms, wire houses, insurance firms, and RIAs.
Sources: